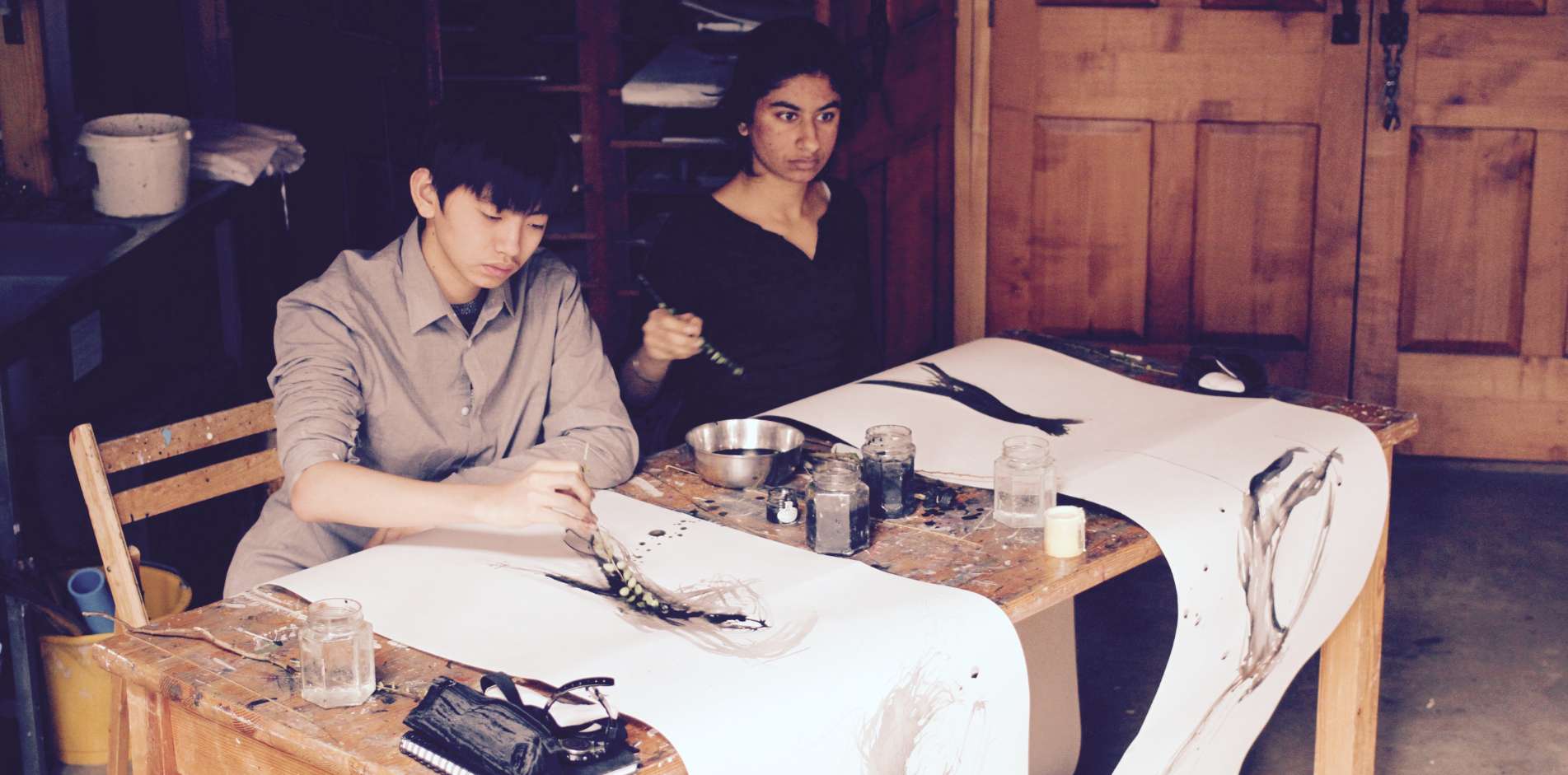 Assessment of a student's learning in the school can take many forms (including self-assessment) and teachers generally approach this in a manner most appropriate to the subject and the student's needs. There is an ongoing engagement throughout the year, rather than the focus on the end result or grade. This is made possible by small class sizes, which enables teachers to have a close and often one-to-one interaction with the students and observe their learning and engagement with the subject. Learning how to learn is the focus of the teachers in the classrooms both in exam and non-exam classes. We have experienced that learning and progress in a subject is the by-product of this close observation and attention to the students. Grades are not given in classes and teachers do not use punishment and reward as motivators. The non-exam students present their learning in the classes twice a year. A detailed report of the student's development, in all aspects of school life, is prepared twice a year and sent to parents.
Click on the link below to view a PDF with the exam results for the academic year 2022-2023
Learning how to learn is the focus of the teachers in the classrooms.
The school offers support in preparing for examinations for university entrance. These include the Advanced Subsidiary Level (AS Level) and Advanced Level (A Level) examinations for UK universities. The AS/A Level exams can generally be used for entrance to universities throughout the world. If a student seeks to take another form of qualification or assessment (including developing a portfolio or taking an IELTS English Language test) we can explore possibilities of supporting this, with students taking an active role in directing their studies towards this.
As an international school providing a unique international curriculum, Brockwood students apply to university as international students. This means that the usual GCSE passes in English and Maths for entry into university are usually met through our equivalent courses. Occasionally, students may need to prove competence in English by completing the IELTS test, but often the fact that students study in English at Brockwood is sufficient to meet that requirement for entry. Along with their A Level examination results and project portfolios, students can request a full official school transcript to support applications to university anywhere in the world.
Brockwood uses the Cambridge Assessment International Education (CAIE), Oxford, Cambridge and RSA (OCR) and Assessment and Qualifications Alliance (AQA) syllabuses for our A Levels. Examinations are offered in the May/June session. A Level exams are competitive, externally assessed qualifications. As such, we feel that students should aim to sit these exams only when they are ready and have the best chance of achieving the grades they are seeking.
For students to be allowed to take A Levels, they must be 16 at the start of the school year. There are two fundamental reasons for this:
• Students taking exams early often obtain poorer results, as they have less experience and preparation than those they are competing with. They may end up having to take resits in subsequent years;
• When students are focussing on A Levels they are significantly limited by the syllabuses. We believe it is important to hold a space for younger students within which they can explore and learn more freely before they are pulled into the examination system.
Exceptions are made occasionally — most often for students who are native speakers of a language other than English and for whom the A Level in that language may be relatively easy to obtain.
Students should aim to sit exams only when they are ready.
There is insufficient space within a Brockwood timetable to facilitate students taking more than three A Level courses. It is also felt that taking more courses imposes unnecessary stress on students, as well as significantly limiting their opportunities to explore more widely and engage with other courses.
For non-native English speakers there will be an additional challenge in all of the A Level examinations in interpreting questions and being required, often, to use advanced and accurate English in answers. To prepare for the exams before a student has a sufficient grasp of English will lead to poor grades and needless frustration. As a result, some non-native speakers start A Level courses a year later than native speakers (so they would be 17 at the start of the year). It is important that students are aware of this possibility before joining the school. Based on their English skills, they must be prepared to spend a further year completing their studies.
Exam entries are made in February in the year of the examinations. At this stage, we assess in collaboration with the student whether they should sit the exams. If students have attended sufficient classes (in the case of a taught course) and completed sufficient homework to take an exam, we will make arrangements for entry. Students who are not properly prepared will not be encouraged to take exams, unless they are in their last year and it is their last chance to get some sort of qualification; they may then be asked to sit a mock exam and achieve an agreed grade to be subsequently entered for the exam.
Brockwood Park
Bramdean, Alresford
Hampshire SO24 0LQ
United Kingdom
Telephone: +44 1962 771 744
Company Registration No. 1055588
Registered Charity No. 312865
© Krishnamurti Foundation Trust Ltd