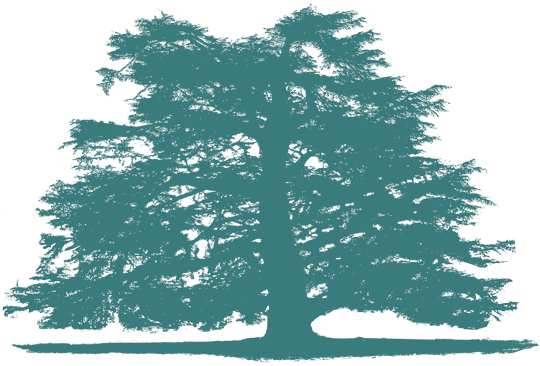 'The purpose, aim and drive of these schools is to equip the child with the most excellent technological proficiency so that he may function with clarity and efficiency in the modern world, and far more important to create the right climate, so that the child may develop fully as a complete human being. This means giving him the opportunity to flower in goodness so that he is rightly related to people, things and ideas, to the whole of life. To live is to be related. There is no relationship to anything if there is not the right feeling for beauty, a response to nature, to music and art, a highly developed aesthetic sense.'

The radical intentions of Brockwood Park School mean that what we give emphasis to in our curriculum is broad and interconnected. The curriculum is a dynamic element of school life, driven by questions and concerns such as the following: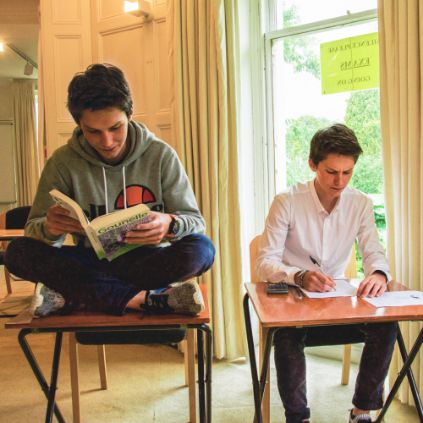 Excellence
The pursuit of Excellence can create a culture of comparison, stress, fear and obsessive perfectionism; can an educator avoid these pitfalls, but help develop the student's abilities to the full?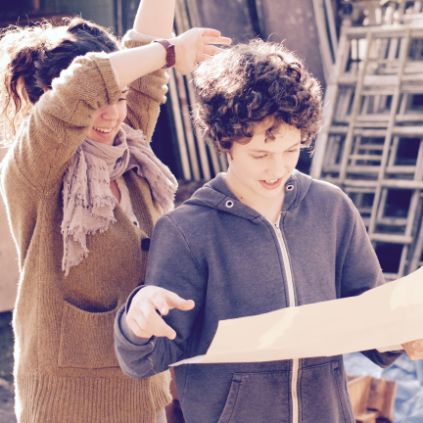 Learning
Learning is about the whole of life; can it continue for the whole of life without the motivators of competition, punishment and reward?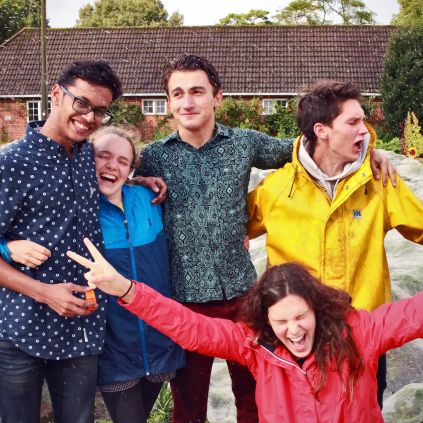 Relationship
The Relationship between the educator and student is one of mutual respect and inquiry; the educator has authority in the subject, but can they avoid placing themselves on a pedestal?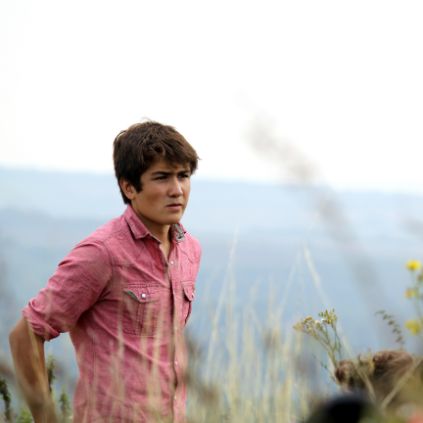 Observation
Observation is vital and can the educator and student observe equally the outer world (the object, topic, concept) as well as the inner world (their reactions, images, beliefs) and learn from both?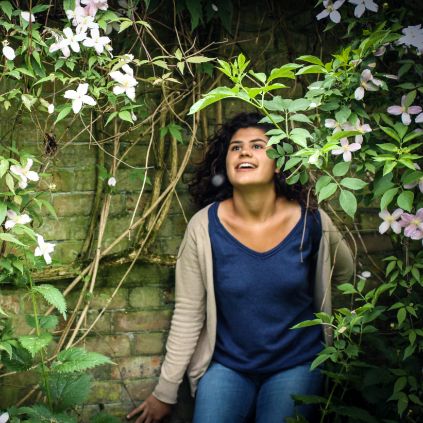 Wholeness
The Wholeness of life is often sacrificed to increasing specialisation and fragmentation; how is the educator to ensure the student retains the balance and harmony of heart, mind and body?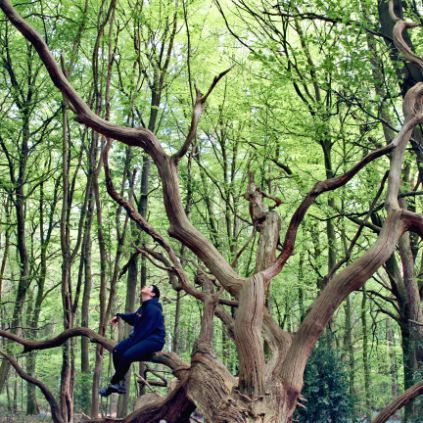 Nature
Nature is life, but our alienation from the natural world and our destruction of it now constitutes a major global crisis; what can the educator and student do to address this?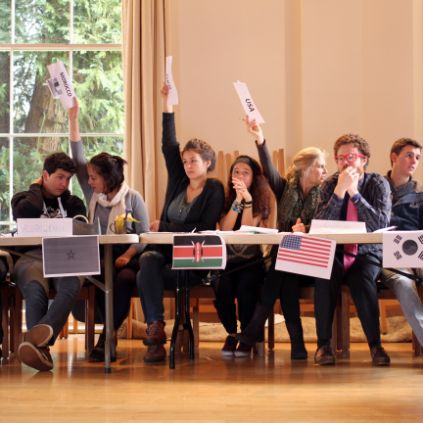 Right Livelihood
What is Right Livelihood in a world fraught with competitive self-interest and destructive behaviour and what is the place of talent and passion in the discovery of this?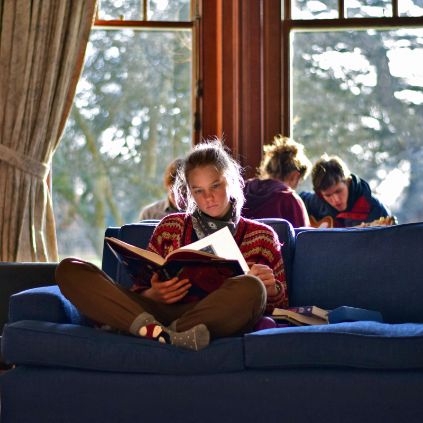 Knowledge
Knowledge is critical to human existence, but it is also limited, incomplete and conditioned and what does this mean for learning and for life?
The Core Programme is for students who are in their first year at Brockwood and who are aged 14 or 15 years old at the beginning of the school year. It consists of two parts: the Core Landing Programme (first term) and the Core Courses (second and third term).
During the first term, students will be involved in a variety of mostly hands-on/experiential learning activities each week. This gives them exposure to different areas and establishes a closer contact with many of our teachers. As one of the aims of these weeks is to help our younger students land at Brockwood, we are calling this our Core Landing Programme. Writing and journaling will be a key part of each week, ensuring that students develop their English skills and helping them to reflect on the experiences they have had. The first term ends with two weeks of transitioning to the five Core courses, which will then proceed during the second and third terms.
The Core Courses focus on five broad areas of study: Humanities, Art, Science, Maths and Health and Movement. The intention of these courses is that the student develops foundational skills by being exposed to a range of learning perspectives, and also that the student gets to explore, experiment and find their own motivation and agency in learning. Students also learn to organise their work outside of class during Study Hall; they are encouraged to present their work to each other throughout the year.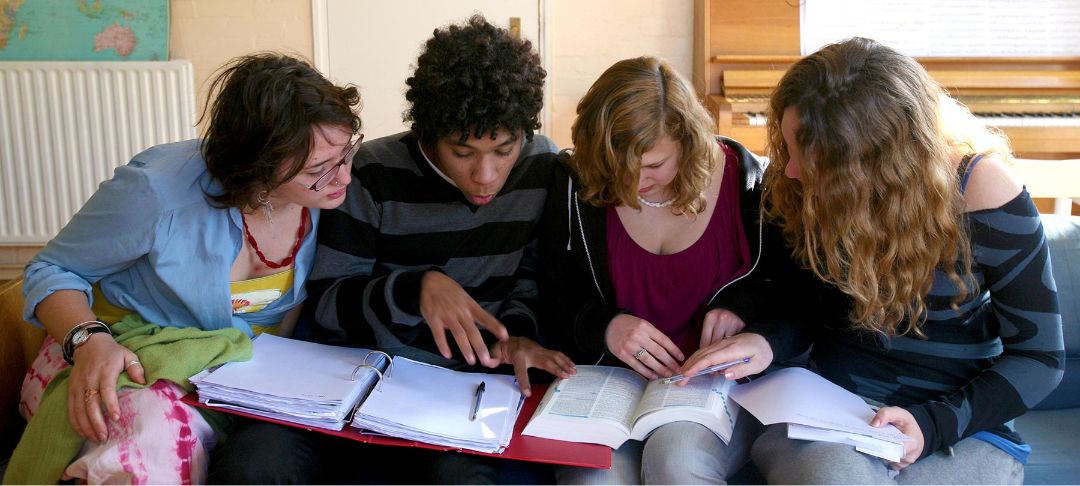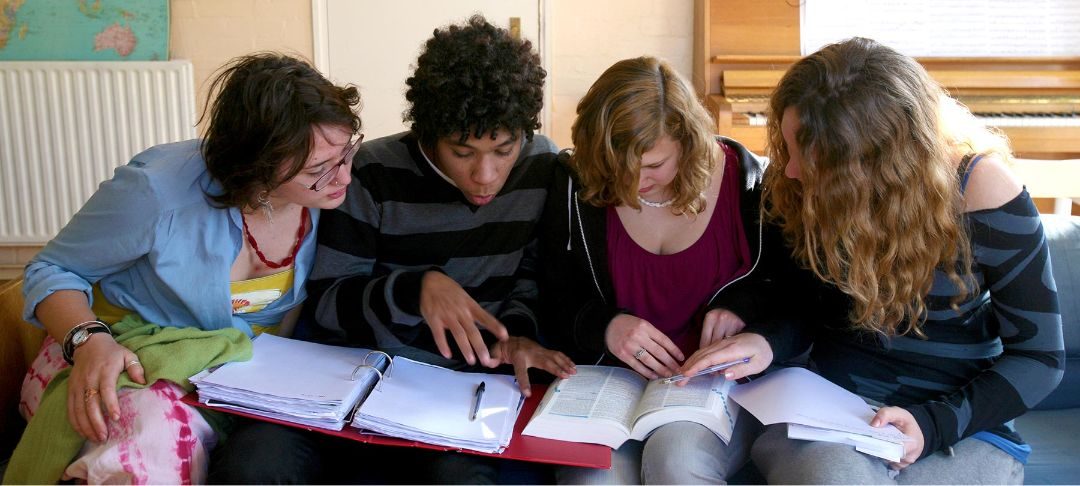 Elective courses encourage learning for the love of learning.
These courses are in the same areas of study as the Core Courses described above and are available to all students who are 16+ years, or to younger students who have completed their first year of Core Courses. Students may take several of these courses, and the class groups tend to be mixed ages. The intention of these courses is to provide a focus of study that is not externally assessed, but gives room for the student's own exploration and pace of development: in short, they encourage learning for the love of learning. These courses support the student in developing a deeper understanding of the subject, a more substantial body of work, and encourage them to become clearer about questions that are of importance to them, in relation to the subject. Emphasis is given to working collaboratively, and developing the research, study, and documenting skills the student will need and which will help with exams and creating portfolios. All students give a presentation of their work to the school at the end of the year.
Topics are courses that address a broad issue or area of study, and are generally cross-curricular. Examples of previous topic headings include: Patterns and Intelligence, Forest, Movement of Humans and Global Issues. Topics can vary from year-to-year and two or three are run in a given year. These courses are an opportunity to focus on far-reaching yet specific issues in more depth than during conventional subjects, and they often include trips and hands-on experience. Topics are usually led by two teachers with different areas of expertise and together they develop the syllabus with a clear set of starting activities and questions. The topic then develops as students and teachers work together and explore issues from different viewpoints; students develop their own investigation within the topic. All students, except for Core students who have a full morning schedule, are welcome to take a topic course, and all students present their work to the school at the end of the year. These courses usually run for one morning, once a week.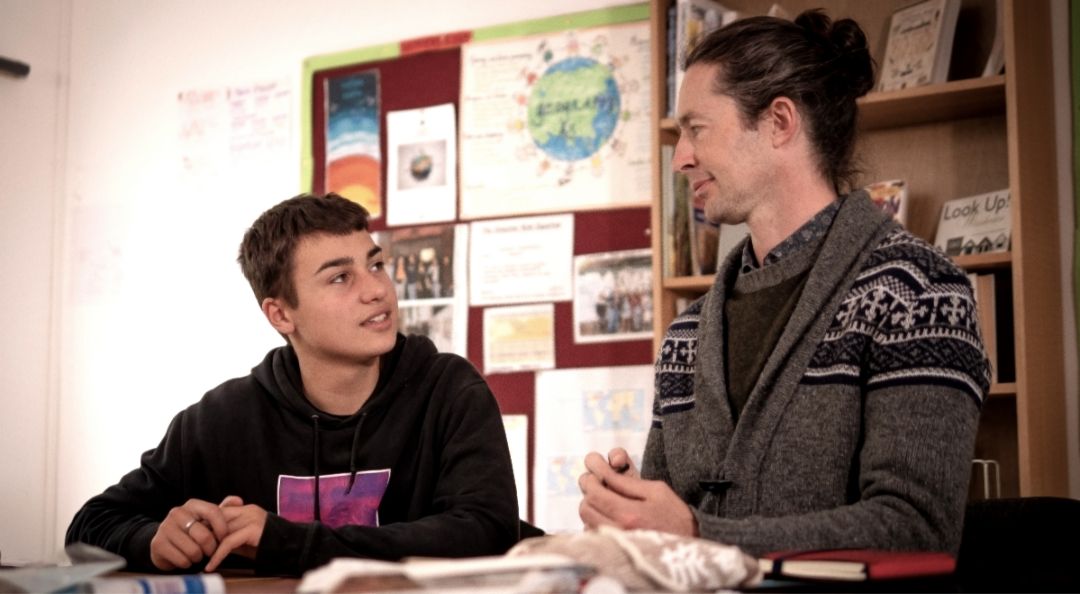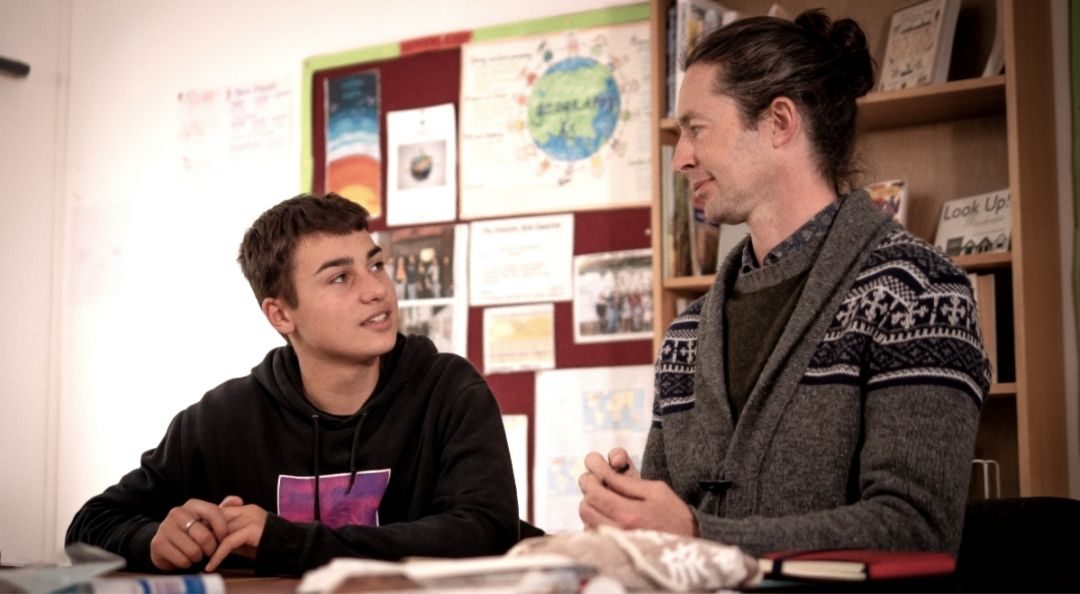 Students at Brockwood Park School speak a wide variety of languages and have different levels of proficiency in English. To meet this diversity, the English courses are necessarily student-tailored. Non-native speakers focus on learning vocabulary, pronunciation, grammar and syntax. Students with an intermediate or advanced level of English – including native speakers – develop their language skills through the study of literature, drama and poetry. Experiential learning is at the core of our approach to language acquisition, and our classroom can open into any area at Brockwood and beyond, including the outdoors.
We offer a range of subjects following the syllabus from Cambridge International Education.
If students are looking for standard qualifications, we offer a range of subjects following the syllabus and examinations from Cambridge International Education. These qualifications are of a high standard, are recognised globally by universities and require a 2-3 year commitment. Interested students generally take 1-3 of the exam courses, which are designed for students aged 16 years or over. Non-native speakers are recommended to have a very good level of English before starting.
Exam subjects taught at Brockwood: Art (Fine Art, Photography, Graphic Design), Biology, Chemistry, Economics, English Literature, Geography, History, Mathematics, Modern Languages (French and Spanish), Music, Physics.
Some students opt for self-studying other examination subjects, but the school cannot offer taught classes in these and, while it may be possible to arrange tutorial support, this cannot be guaranteed.
This programme offers support for students developing their own projects.
A core element of our curriculum is our Project Programme. This programme offers support for students developing their own projects, based on a topic or question of their choosing. Support is given in the following manner: group and one-to-one mentoring; guidance with project structuring; assistance with time management, research and presentation skills. The intention of this programme is to encourage the student in their self-led exploration of the topic, foster their love of learning and deepen their study skills.
These projects may be either academic, or practical, or somewhere in-between. Some students work on a small project alongside their other studies and may devote one morning a week in their timetable to it. Older students may give it more priority, developing their project into a substantial body of work or portfolio that can be presented at interview for university and college placement, work internships or employment. Such portfolios can support other qualifications, or sometimes be considered sufficient to stand in place of required qualifications. A project is a substantial commitment and requires a deep interest in the topic, a competence in basic study skills, dedication and excellence.
All students present their work-in-progress to the school in the second term, and their final work at the end of the year.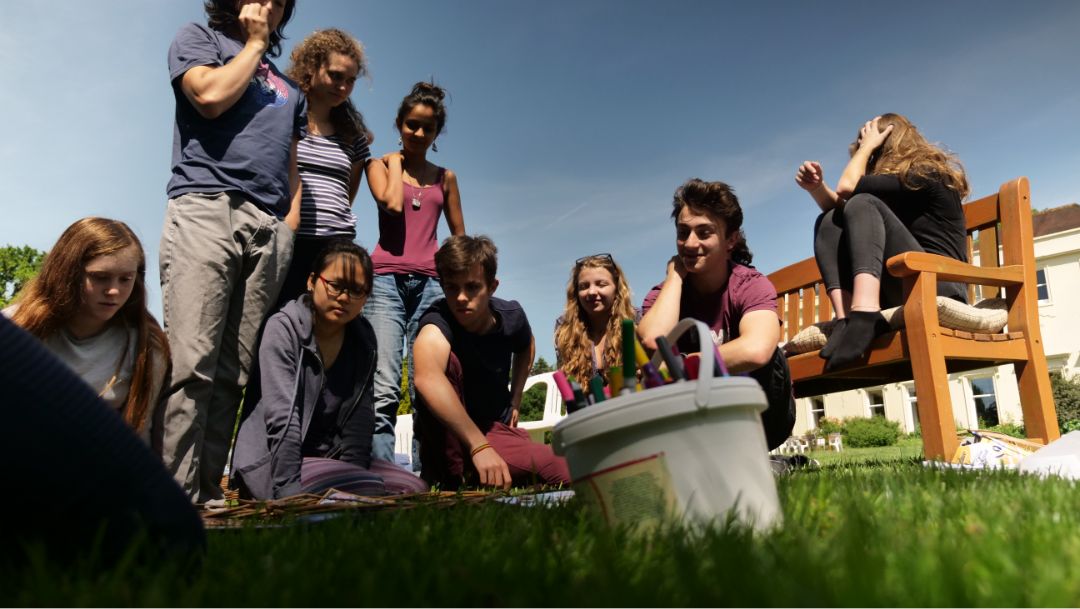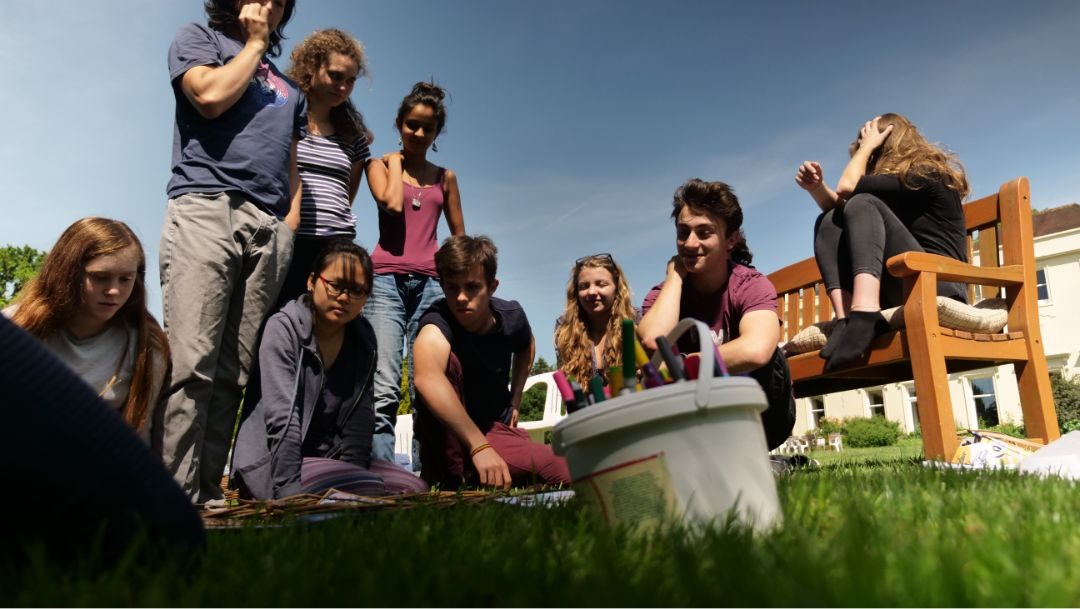 Inquiry time is the time in the week when the whole school meets and together looks deeply into the intentions of Brockwood, what it means to live together well, and other life issues. Inquiry time often includes an investigation of Krishnamurti's teachings and their implications for our daily lives. Topics are chosen by students and staff who meet earlier in the week to discuss what is most relevant for the community at that time. Examples of topics include: relationships, authority, responsibility, body image and sexuality. Inquiry Time runs for half a morning a week.
Click here to watch Inquiry Time in action
Every student is required to take this programme, which is concerned with the exploration of our place in the natural world. The course runs for half a morning every week and has three aims, which are to learn:
• how to grow organic fruit and vegetables in our one-acre walled vegetable garden;
• about local and global environmental issues and reflect on their root causes;
• what it means to be in direct contact with nature — relating to it with the whole body.
Brockwood hosts a wealth of facilities and resources which have been built up by both students and staff over many years. Co-curricular courses are offered by teachers who have a particular interest or area of expertise they would like to share. These courses enrich the curriculum and the learning experience of students, providing a broad range of hands-on learning opportunities. Courses can change from year-to-year depending on what teachers have to offer. Some of the courses we currently have are Pottery, Woodwork, Music Production, Darkroom Photography, Sustainable Fashion.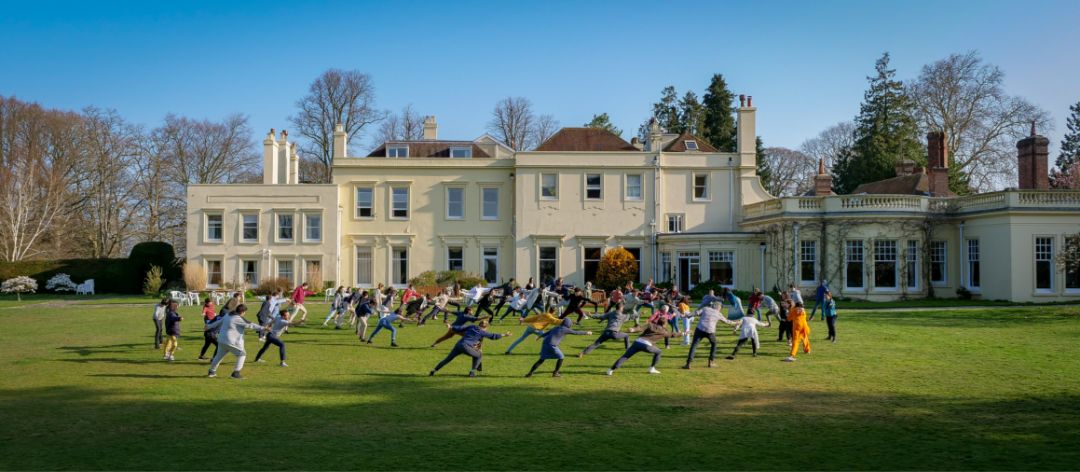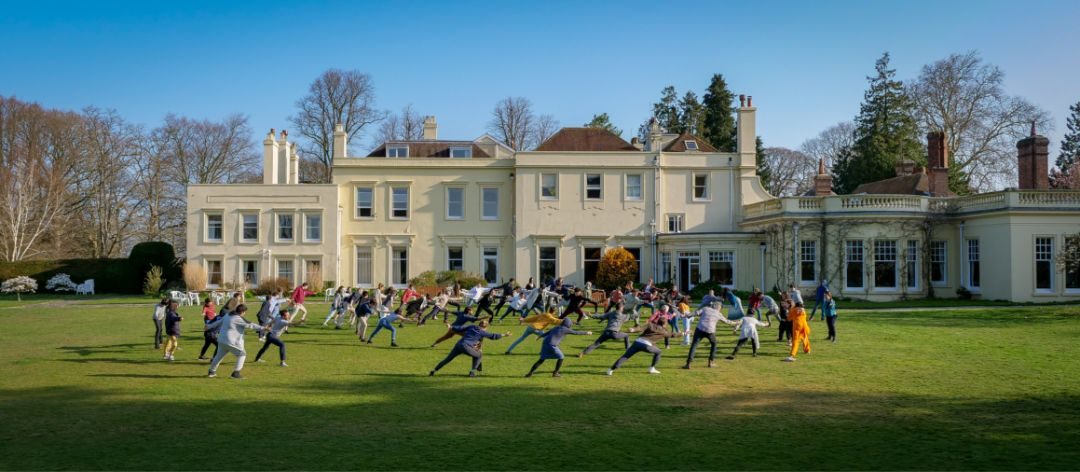 Physical activity plays an important role in the Brockwood curriculum. Twice a week, in the afternoon, the whole school (students, mature students, teacher apprentices and staff) participates in various sports and physical activities. Currently, the most popular (team) sports at Brockwood are football and ultimate frisbee, but throughout the year other games are offered as well, such as badminton, basketball, volleyball, cricket and tennis. Apart from these, we also offer a range of physical fitness activities, such as: yoga, dancing, hiking, swimming, running, slacklining, movement and games. Our facilities include a full-sized football pitch, a combined tennis and basketball court, an outdoor swimming pool (only open in summer) and some indoor spaces for dance, movement and yoga, as well as a small indoor gym.
Physical activity plays an important role in the Brockwood curriculum.
While offering team sports the school promotes cooperation and giving one's best, over and above any competitive element. Most team sports are played with groups of mixed abilities and experience (and often mixed-gender) and learning how to play well together with the aim of challenging oneself, and enjoying the activity is encouraged for all. The school regularly organises football matches with other local teams and over the last few years it has been participating in a local futsal league (a variant of indoor football) with the Brockwood team consisting of staff, students and mature students.
Students who are inclined towards sports and physical education are encouraged to help in the organisation, coaching and coordination of sports and sometimes even offer activities on their own. Yoga and other gentle forms of movement are regularly offered, both during sports time as well as at other times in the week. These activities encourage the development of sensitivity, suppleness and body awareness.
Every student has an Academic Advisor.
Every student has an Academic Advisor who meets with them weekly and supports their learning journey. The advisor/student relationship is seen as a collaborative inquiry into motivation, the nature of learning in general, of which academics are a part. Initially, they discuss academic plans and objectives and develop a timetable together. Timetables are highly individualised and students are not expected to fit into a pre-existing mould. Time and care is spent on finding a balance, where the student is challenged and exposed to new things while developing their strengths and interests. The advisor engages the student throughout the year with the aim of exploring important questions, fostering independence and autonomy of learning.
Particular focus is given to developing study skills, documenting work and presentation skills, and students are regularly encouraged to share their learning. They meet as a small group of 5-6 students and one-to-one when necessary. The Academic Advisor may contact parents if the student has on-going issues with their studies.
Get in Touch
Would you like to know more?
Left with a question, a comment or concern? Don't hesitate to write to us now and we will get back to you as soon as we can.
Order a Free Prospectus
Everything you need to know is here on the website, but if you would also like to have a booklet to show family or friends and to refer back to, don't hesitate to request a prospectus.
Give us a Call
There is nothing quite like speaking to someone who can deal with your questions immediately. Call us now if you wish and we will do our best to answer your questions straightaway.
Brockwood Park
Bramdean, Alresford
Hampshire SO24 0LQ
United Kingdom
Telephone: +44 1962 771 744
Company Registration No. 1055588
Registered Charity No. 312865
© 2021 Krishnamurti Foundation Trust Ltd